Platinum vulcanized silicone hose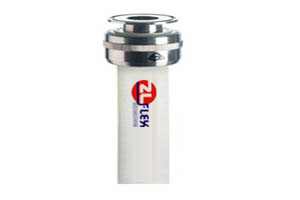 Temperature:-60℃/+180 ℃ Suitable for intermittent SIP disinfection and high pressure sterilization methods, is not suitable for continuous steam transmission. Clean and clean and disinfect.
Structure:Pure white, with spiral stainless steel wire (316L AISI standard) and polyester fiber layer dual strengthening.
Technical characteristics:Platinum vulcanized silicone rubber hose, general purpose, strong and durable. Especially suitable for high pressure and negative pressure working environment.
Inner wall characteristic:Extrusion type production mode, smooth inner wall of super class level, abdominal distension with high purity silica compound, reducing the risk of bacterial accumulation and sediment immersion, the inner wall of the airless Chi, no taste. Do not change the original sensory attributes of the medium inside the tube. All these make the W SIL-LIFE tube to be the ideal solution for the material transportation in the clean and sanitary environment.
Outer wall characteristic:The outer wall of the flexible tube enables the hose to be resistant to weathering, weather resistance, temperature difference and chemical resistance. The hose after two curing, removing the volatile particles, to ensure the clean and sanitary transmission environment. Have a gloss, the outer logo is in line with food grade standards.
Application:For the pharmaceutical, cosmetic, food processing industries to provide an ideal solution for the material delivery of these industries in need of high purity, high flexibility and flexibility of the hose. Does not apply to the human body implant.
Demonstration:Conform to the USP class VI standards and European koji 3.1.9 provisions, non-toxic, in line with the ISO 10993-5 provisions; for transmission food in line with the provisions of the U. S. Food and Drug Administration (FDA) the 21CFR177.2600 (water and high fat food) and the 1935 / 2004 and DM21.3.73 standard.
If the duration of the temperature exceeds +100, with the temperature increase of 1 degrees Celsius, the pressure decreases 1%. details, please consult our engineers.
| | | | | | | | | | | |
| --- | --- | --- | --- | --- | --- | --- | --- | --- | --- | --- |
| Internal diameter | External diameter | Thickness | External diameter | Weight | Working pressure | Blasting pressure | Negative pressure resistance | Bending radius | Length per roll | Volume |
| mm | mm | mm | mm | g/m | bar | bar | MH20 | mm | m | M3 |
| 1/2" | 12.7 | 6.2 | 25.1 | 530 | 10 | 40 | 10 | 45 | 4 | 0.003 |
| 3/4" | 19.05 | 6.2 | 31.4 | 700 | 10 | 40 | 10 | 65 | 4 | 0.004 |
| 1" | 25.4 | 6.2 | 37.8 | 970 | 10 | 40 | 10 | 80 | 4 | 0.006 |
| 1-1/4" | 31.8 | 6.2 | 44.2 | 1050 | 10 | 40 | 10 | 120 | 4 | 0.008 |
| 1-1/2" | 38.1 | 6.2 | 50.5 | 1410 | 10 | 40 | 10 | 150 | 4 | 0.010 |
| 2" | 50.8 | 6.2 | 63.2 | 1660 | 10 | 40 | 10 | 180 | 4 | 0.016 |
| 2-1/2" | 63.5 | 6.2 | 75.9 | 2000 | 7 | 28 | 10 | 220 | 4 | 0.023 |
| 3" | 76.2 | 6.2 | 88.6 | 2430 | 4 | 16 | 10 | 250 | 4 | 0.031 |
| 4" | 101.6 | 6.2 | 114 | 3000 | 3 | 12 | 10 | 360 | 4 | 0.052 |